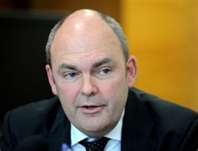 A fortnight ago I blogged about Steven Joyce, the Minister of Economic Development, breaking the 'sub judice' rule by commenting on and taking sides in two court cases related to the Escarpment_Mine which are yet to be heard and decided.
I thought to myself "This is a democracy". So I wrote a letter to the Prime Minister.
Rt Hon John Key, Prime Minister Parliament Office Private Bag 18888 Parliament Buildings Wellington 6160
27 September 2012
Minister of Economic Development 's press release of Tuesday 25 September 2012 on the Bathurst Resources (Escarpment Mine) court cases
Dear Prime Minister,
I am writing to you to express my concern about the New Zealand Government press release made by the Minister of Economic Development Steven Joyce on 25 September 2012 and his appearance on the TV One Breakfast show on the 26th.
In the press release Mr Joyce calls on two parties, Forest and Bird and the West Coast Environment Network, to withdraw from two upcoming court cases concerning resource consents applied for by Bathurst Resources subsidiary Buller Coal Limited for their proposed open cast coal mine in the Mount Rochfort Conservation Area, near Westport. That would leave Bathurst Resources with uncontested hearings before the Environment Court and the Court of Appeal that would result in the disputed resource consents being confirmed.
In the Government press release and the TV interview, Mr Joyce is not staying impartial towards matters before a court. He is firmly expressing an opinion as a Minister on what he thinks the outcome of the two undecided Court cases should be.
This appears to me to be contrary to the 'separation' principle that members of the Legislature and the Executive should not intrude on matters properly left to the Judiciary.
It also appears contrary to the 'sub judice' rule; which I understand to be "Don't comment on matters before a Court". The rule is set out in Parliament's 'Standing Order 112', and in "Sub judice rule" in Chapter 16 of 'Parliamentary Practice in New Zealand' and in the 'Speaker's Rulings on Sub Judice Rule Operation' by Margaret Wilson dated 16 October 2007.
Will you please draw these principles to Mr Joyce's attention?
Yours sincerely,
Let's see what reply I get.